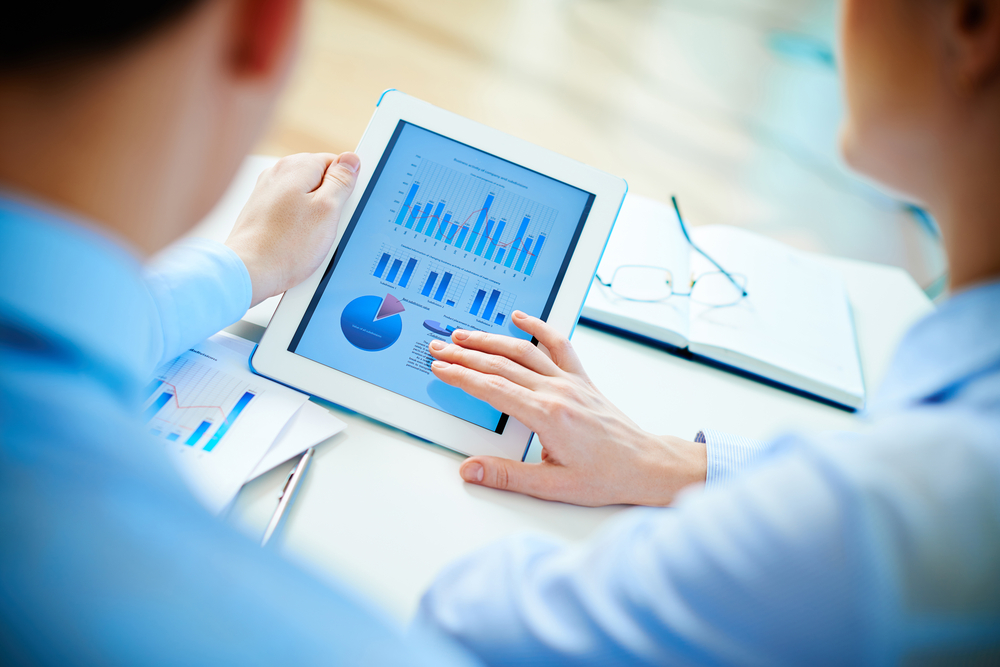 Data drives growth. All businesses are aware of this fact and routinely utilize the power of reporting, data, and analytics to improve strategies and processes for advancement. Tracking metrics and key performance indicators (KPI's) are essential to this growth. Whereas metrics refer to overall business activities and processes, KPI's are precise metrics aligned to specific business outcomes.
Routinely evaluating performance KPI's of managed service providers (MSP) and staffing vendors is critical in providing insight into whether your staffing program is yielding intended results. The use of MSPs and external vendors ideally increases talent acquisition while reducing spend. To evaluate the value of staffing services regarding these business goals, track metrics over time to provide deeper insights into:
Performance and profitability

Issues and improvements

Transparency
1. Productivity & Profit
The advantage of tracking KPI's is the ability to monitor and manage performance. Measuring performance allows your organization to evaluate an MSP's productivity, efficiency, and use of resources when filling positions. Specific metrics track efficiency throughout the recruitment cycle process. This provides an objective method in holding vendors and MSPs accountable. Assessing KPI's also allow your organization to gain visibility into which of your staffing agencies provide quality candidates to your open positions and contribute overall value.
2. Issues & Improvements
Metrics will point you to weak points and areas for improvement in the life cycle. Consistent measurements falling short will help you identify where to place your efforts. Consider factors that fall within your organization, as well as service providers, when considering performance shortcomings. For example, low acceptance job offer rates may indicate internal issues, whereas an unfavorable submission to interview rate can be a service provider's lack of ability to properly source and interview quality candidates.
3. Transparency
Tracking staffing metrics provides your organization with real-time, transparent information on current and past trends regarding open positions. Digging further, evaluate open positions in specific departments and times of year to better understand trends. Transparency extends into knowing what current candidates are on assignment throughout your organization.
Audience
With numerous different staffing KPI's to track, it's important to assess what makes sense for your organization and industry. Choosing what metrics are valuable is also determined by perspective.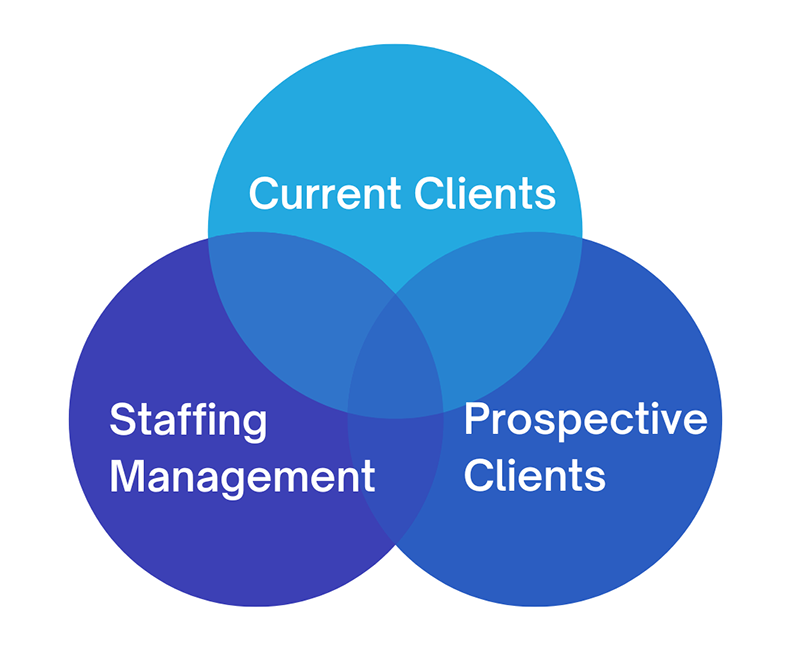 Three audiences that benefit from evaluating staffing metrics include:
Current clients: gauge vendor & MSP performance
Prospective clients: vet potential MSP & vendor partnerships
Staffing agency management: measure performance
Metrics chosen by each audience will experience overlap, however KPI's will also differ relevant to goals for each audience. For example, management in staffing agencies may be more interested in tracking redeployment rates, while prospective clients may be interested in evaluating customer satisfaction rates, and current clients may focus on quality of hire metrics. This article focuses on client-centric metrics on evaluating staffing performance.
10 Staffing Performance Metrics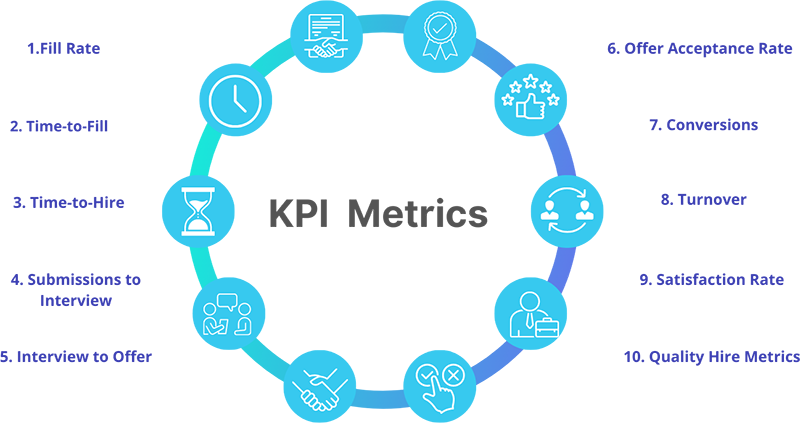 1. Fill Rate
Fill rate is a primary metric in assessing an agency's efficiency and workload management. A reliable MSP is able to manage fill rates efficiently and place candidates accurately within the scope of their stated capacity. This metric refers to the ratio between job orders received by the MSP agency, and those filled. Ideally, this percentage should be high. Low metrics may indicate inefficient processes of the agency.
2. Time-to-Fill
Time-to-fill is often cited as a top metric to monitor as healthcare facilities are needing top talent quickly. Time-to-fill rates are how many days it takes to fill a position from when it's first posted. High time-to-fill rates may result from a plethora of factors including current market demand and wages, to inefficient recruiting strategies.
3. Time-to-hire
Similar to time-to-fill metrics, time-to-hire is how long it takes a position to fill after a potential candidate is contacted and enters the recruiting funnel. This metric helps gauge the recruitment cycle and how quickly and efficiently a candidate moves through the process. This metric is best kept on the lower end, denoting quick and accurate placement. Increased time-to-hire results in increased expenditures.
4. Submissions to Interview
The ratio between the number of candidates submitted for a position and candidates interviewed helps you assess processes in the requisition cycle. A high ratio may indicate a lack of qualified candidates being sourced and interviewed.
5. Interview to Offer
Interview to offer ratio measures the number of interviews conducted to the number of job offers extended, with the ideal ratio being 3:1. It's critical to examine how many interviews it takes to extend an offer. Factors that contribute to this metric may include the quality of the screening process and the quality of the candidate.
6. Offer Acceptance Rate
Pay close attention to the offer acceptance rate. This metric refers to how many offers were accepted by candidates. Ideally, organizations want to achieve around a 94% acceptance rate of job offers extended. A lower acceptance rate indicates internal issues concerning wages, benefits, or company cultural discrepancies.
7. Conversions
Evaluating conversion metrics means assessing how many contingent staff convert to full-time positions. This KPI is helpful in understanding your organization's company culture and the ability of service providers to match and place candidates in the right position.
8. Turnover
Pinpointing turnover trends is critical. Contingent labor is temporary, however workers leaving prior to contractual dates is costly and increases staff workload.
High turnover rates among contingent workforce may indicate a mismatch in candidate and job pairing. It may also indicate potential internal issues, such as shifts or supervisors. Addressing this metric will help source the issue and strategize retention efforts. Assessing turnover data may also help you detect whether turnover is voluntary or occurring at certain times of the year.
9. Satisfaction Rate
Refer to satisfaction rates from hiring managers in regards to service providers and staffing vendors to understand the sentiments of candidate placement and the recruitment process, as well as overall relationships with staffing agencies. By reflecting on feedback, you can consistently evaluate whether vendors and MSPs are exceeding expectations or falling short.
10. Quality Hire
Unlike many of the metrics previously outlined (which can be directly calculated), quality of hire consists of several metrics evaluating the quality of workers. Metrics used to characterize quality hires will vary across companies depending on what they consider quality fit.
For example, companies may choose to include job performance, 3-month or 12-month marks, cultural fit, or several other variables. Determining quality hires not only helps you assess the productivity and accuracy of your vendors, but also contributes to greater productivity and less turnover.
How can we help?
With the right staffing agency or technology, recruiting is a cost-effective measure for meeting your workforce needs. With AI-powered technology, staffing should empower your efforts by placing talented candidates quickly while reducing overall spend. Automated routine tasks, powerful analytics, and a seamless recruitment cycle are critical components your MSP's or staffing technology should exercise to exceed performance.
Adversely, ineffective providers or vendors will lead to costly recruitment. For agencies and providers continuously falling short of expectation, it might be valuable to reevaluate current staffing strategies, consider alternative providers or implementing other staffing models into your current workflows.
Connect with us! We craft custom solutions unique to your needs and challenges. Alternatively, learn more on client success stories.